Notification of Change on MYOPEP Tablets Form
Dear valued Customers and Associates of LABRMS,
We are excited to announce a new version of MYOPEP tablets called the MYOPEP NANO tablets now available for purchase worldwide. The MYOPEP tablets have been redesigned following customer feedback and current trends in the health and wellness industry. We hope this redesign meets our customers' need for value-for-money purchases. Here are several features of the MYOPEP NANO tablets we wish to highlight:
Size difference
MYOPEP NANO tablets are smaller in size and shape, which make them easier to swallow and quicker to digest.
Ingredients
The primary ingredients remain unchanged from the original MYOPEP tablets. Thus, the tablet's efficacy is not affected.
Concentration
Due to its smaller size, MYOPEP NANO tablet is more concentrated. Non-essential inactive ingredients have been reduced.
Standard Pack
The standard packaging box contains 60 tablets: 3 blister packs and 20 MYOPEP NANO tablets in each blister pack. Each blister has been specially designed to contain 2 MYOPEP NANO tablets, thus offering convenience for users.
Daily Dosage
The recommended dosage is 4 MYOPEP NANO tablets per day. 2 MYOPEP NANO tablets are to be taken together each time. Because they are smaller in size, swallowing them is easier compared with the original MYOPEP tablet.
Dosage
A single pack of MYOPEP NANO tablets is equivalent to half a month supply, i.e. 15 days.
Price
Price remains unchanged for one month consumption consisting of 2 MYOPEP NANO packs.
Following the release of MYOPEP NANO tablets, LABRMS will no longer produce the original MYOPEP tablets.
Demonstration of product difference:
OLD
Recommended Usage: 2 tablets per day
Ingredients: (Each tablet contains extract equivalent to dried herbs): Paullinia cupana – seed 1g, Tyrosine 2.5mg, Colostrum powder 25mg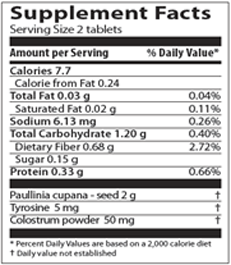 NEW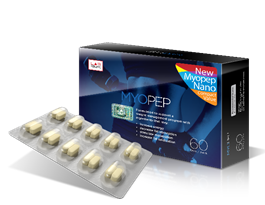 Recommended Usage: 4 tablets per day
Ingredients: (Every 2 tablets contains extract equivalent to dried herbs): Paullinia cupana – seed 1g, Tyrosine 2.5mg, Colostrum powder 25mg